VELUX Skylights and Sun Tunnel Skylights
ATTRACTIVE AND EFFICIENT.
We install energy efficient Velux residential skylights. They bring natural light indoors and make a space more inviting. There's a variety of styles to fit the many spaces in your home, including bathrooms, bedrooms, sun rooms and more. And, there's no need to worry about water leaks. All Velux skylights carry a 10-year installation warranty and most are Energy Star rated.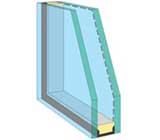 VELUX skylights are designed using tempered or laminated glass – each designed to meet the needs of specific building situations. They'll help keep you warm in winter and cool in Summer. All VELUX skylight glazings are built using energy efficient, LoE3, Argon gas injected dual glass panes. If you are looking for an innovative way to add lighting in your home, without the long term electricity costs of traditional lighting, consider the energy savings and unique benefits that these beautiful skylights offer.
They are easy-to-open and are available with manual and remote control options. They also are available with privacy blinds in these three styles:
To see a portfolio of current design styles and to learn more about VELUX skylights, browse the VELUX website. Then give us a call. We offer expert advice and free estimates to help you bring the sunshine into your home.
Photographs shown above are copyrighted by VELUX USA.
VELUX is a registered trademark of VELUX USA.