Cedar Shake Shingle Roofing and Siding.
Capture the Unique Charm and Long-Lasting Durability of Cedar.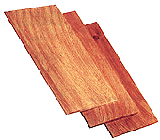 Our Cedar Shake roofing materials are provided by Anglo American Cedar Products, a well-known distributor of high-quality roofing materials. These products are designed to add long-lasting beauty to the exterior of your home. This Canadian company has been supplying the building industry since 1959. Anglo American Cedar Products come with a 50-year warranty. These shakes and shingles are tapersawn products that are highly resistant to cupping and curling and lay down smoother than any other product on the market.

If you are considering between Cedar and other roofing materials, let JS Roofing partner with you to help determine the final details of your project. We'll take care of ordering the products necessary to complete your project using the most reliable products on the market today. Rest assured, our experienced installers provide quality craftsmanship, and are trained and certified to meet manufacturers' requirements.
You can visit the Anglo American Cedar Products website to find their most recent product innovations. Then, call JS Roofing for samples and a free estimate.
Anglo American Cedar Products
Photographs shown above are representative of the work we do.